Priseda BaaS and DRaaS – Resilience Data and Network Management Services
Priseda has integrated Asigra Cloud Backup with the data security, reliability, and scalability of Priseda's private cloud and network management system.
The Priseda patented data analytics and reactive monitoring auto-correlates events enterprise-wide so that IT professionals are provided with actionable intelligence. The platform provides extensibility and usability that are all-encompassing in terms of its suite of secure off-site data protection and network management capabilities.
Priseda managed Asigra Cloud Backup, and DR services along with the AIOps Grid Observer™ GO NMS provide customers with the ability to predict the security of data and can detect network issues before any failures occur. Priseda's national private network is built for client resiliency to protect against data center and network outages, regional disasters, server, and database outages, as well as carrier link outages so that the loss of data or business services are prevented.
Priseda provides the Private Cloud and Public Clouds Access for your enterprise IT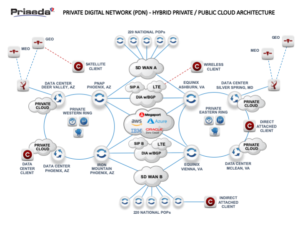 Priseda BaaS DRaaS Solutions
Backup as a Services and DR Recovery Services
Data Recovery and Data Loss Issues
Over 60% of companies go out of business within six months of a major data loss or disaster.
Today's business runs on data. But many data and system threats have evolved: technology failure, environmental disaster, cloud outages, malevolent cyber sabotage or innocent employee error, and more. In our digital age, a backup and recovery solution is essential insurance.
Businesses need a smart evolved approach that minimizes operational overhead and infrastructure costs, addresses modern attack vectors and compliance risks, while still ensuring that their data is safe — and can always be quickly restored.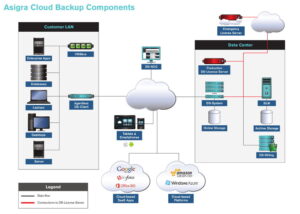 Will you be scrambling at the time of an emergency?
No data, no business. When disasters happen — and they do — every minute counts. As the complexity of your IT environment grows, with vital information and systems interconnected across multiple virtual machines, hypervisors, physical servers, and the cloud, recovering your data and restoring operations can become overwhelming. Learn how you can you prevent data security and data recovery issues from happening to your IT environment.
"One key to a successful business is to start a continuity plan: If you have experienced issues during your last DR test, and delayed in recovery of your backups, learn about Priseda data and system recovery solutions that delivers the flexibility to keep it simple, with successful DR testing."
Priseda Manage Backup and Recovery to Private Cloud-based Solutions
Adapt to Any Cloud Strategy Whether an organization adopts a public, private or hybrid cloud environment, Asigra ensures reliable protection.
Deploy with Ease Mass deploy backup configurations to hundreds of cloud application users at once for consistent protection. New users are automatically detected for inclusion.
Select Backup Frequency and Retention- Meet regulatory and compliance requirements by ensuring that data is protected as often and for as long as required, while retaining access to data at all times.
Securely Store and Encrypt Data – Ensure unauthorized users do not have access to the backup information. All backup data is compressed, encrypted, and deduplicated for storage.
Restore at Any Granularity – Recover a single email or a complete mailbox. Locate specific items and restore any or all directly to a user's account or an alternative location.
Prevent Ransomware and Malware
Prevent ransomware from your data and network
It is not as simple as recovering your latest backup when the data has been corrupted. Why backup corrupted data?
IT teams must guard against malware. But as devices on your network proliferate and connect to a growing constellation of online services, the universe of potential attack expands. Why not prevent the malicious code from ever entering your IT environment?
Your backup data is your last line of defense. Without it, you have nothing to fall back on when ransomware strikes.
Advanced ransomware lays low, undetected, for months before it detonates. While it waits, it infiltrates your backup repositories. Now, restoring a backup also restores that long-hidden, dormant ransomware, triggering a costly Attack-Loop™ that could set back your IT environment months. In some cases, ransomware even deletes your old backups.
Bi-Directional Malware Detection
On backup, all files are scanned in real-time, isolating malicious code and alerting administrators of infection. Before restoration, legacy recovery files are scanned again to prevent the Attack-Loop™.
Zero-Day Exploit Protection
Our signature-less technology does not only rely on a database of known malware to identify unauthorized code.
Variable File Naming
Renames file repositories in non-standard formats to prevent recognition and deletion of your backups by viruses.
Two-Factor Authentication
Requires a second authentication (2FA) in order to delete backup repositories
Data Security and Compliance
Getting serious about managing compliance risk before costs add up?
Achieve Compliance Mandates Simply and Affordably
Protect all your organization's regulated data, regardless of where it resides — on-premises, in the cloud or with a third-party service. Asigra ensures you can efficiently and cost-effectively control how different types and tiers of data are securely stored or deleted as regulations demand.
Companies of all sizes face increasingly stringent government regulations over how they manage corporate data. General Data Protection Regulation (GDPR), which applies to the personal data of EU citizens regardless of a business's location, is only the latest. It won't be the last.
IT teams need a data backup solution to perform a vital function as part of implementing, and a robust compliance management strategy that will not excessively burden day-to-day business operations. Learn more.
Regulatory Compliance
Ensure your backup is fully compliant with all major regulations:
NIST FIPS 140-2 Certification
AES 256-bit in-flight and at-rest data encryption protects your data to the highest level of security and compliance.
Granular Backup File Deletion
Comply with "Right to Erasure" regulations, such as GDPR Article 17. Asigra enables organizations to find and wipe personally identifiable information (PII) from backup archive data
Replication Maintain several versions of files in a secure off-site location to protect against accidental and malicious data corruption.
Management Console Modern interface provides reporting capabilities that demonstrate consent and compliance.
Priseda VRA GO Appliance
In the past, backup software typically ran on a separate server from the underlying storage technology layer. With Priseda VRA appliance, your backup software is deployed as a simple integrated service natively on the VRA NAS. You can host enterprise data backup, serve SMB shares, NFS exports, iSCSI mounts, S3 shares, and much more, all from the same VAR GO Appliance.
The GO VAR Appliance provides simple-to-deploy and easy-to-manage backup services for enterprise size customers that need quick recovery at all locations of their business. The VRA GO Appliance also supports high-availability configurations through a single management platform. Deploy in production, and at remote regional sites that need local recovery the VRA. (GO Virtual Recovery Appliance).
Local recovery of data and both physical and virtual servers
Secure Network Managed with GO NMS
Managing and Protecting your data backups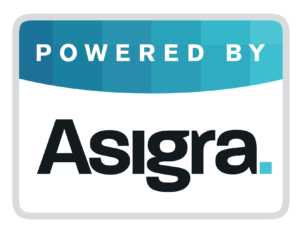 Powered by Asigra